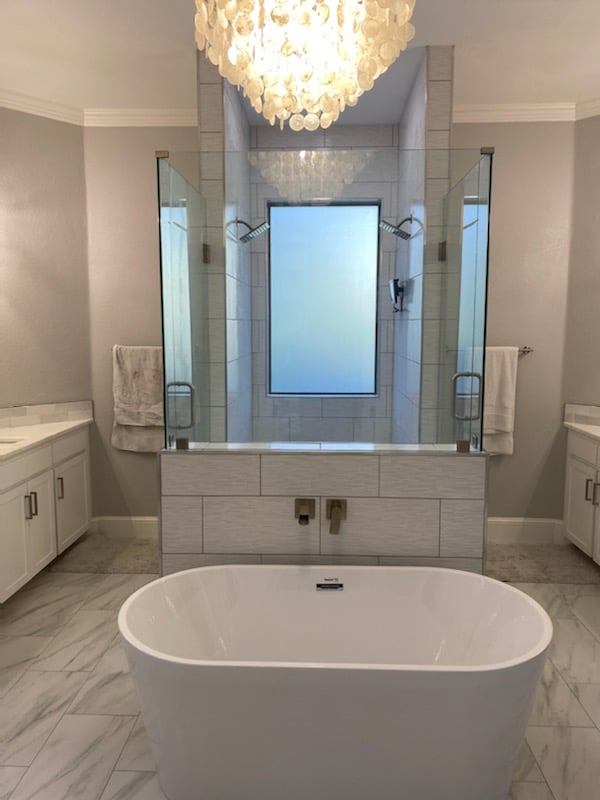 Elite Showers
Frameless Shower Doors & Enclosures
If you are doing a new remodel or removing an old framed shower in DFW, Elite Showers is here to make the experience amazing. When you install an all-glass shower Enclosure, Shower Door & Glass Panels or a sliding shower system, it is important to get every detail just right. Once the tempered glass is cut and tempered, there is no way to alter it.  If you have an old boring builder-grade framed shower, it is time to turn your bathroom into an oasis with frameless glass..
We have two locations a warehouse in Plano, TX and McKinney, TX.
All Elite Showers Frameless shower enclosures are designed with 3/8" or 1/2" tempered glass. The showers are designed and installed to use architectural glass so that you can do without the frame. The result is a crisp, luxurious-looking shower and a much-improved bathroom. The high-quality architectural glass adds stability to the shower enclosure structure, thus eliminating or minimizing the need for metal shower framing. All glass shower doors are the only thing we install. We don't work with framed shower enclosures.
One of the benefits of a frameless shower door is that it will swing both in and out. This allows you to open the door inward and let the water run into the shower when you exit instead of on the floor. All of our Frameless shower enclosures, doors & panels are easy to maintain, can be customized to your shower opening, and should increase the value of your home. Changing the Glass on your shower is a quick, affordable remodel of an existing shower. We can replace your glass in hours. We serve Frisco, McKinney, and the surrounding area from our warehouses.