GLASS SHOWER DOOR OPTIONS
If you are remodeling your bathroom or just replacing a builder-grade framed shower door with beautiful frameless shower glass, you need to know what is available - what are your shower door options?
The featured image here displays a frameless shower door with a small glass panel to the left. This glass door option of a door and panel is great for a large opening. Architectural glass doors are made of 3/8 or 1/2 thick tempered glass and can be very heavy. Depending on the wall support on the hinge side of the installation, we may suggest this option to keep the weight of the door manageable but still give you an all-glass opening.
Large Door with Large Glass Panel
This is a large shower door with a large panel. The door is attached to the glass on the left to allow for easy access to the shower controls without getting wet. This is not always an option. Notice the 'header' piece of glass over the door for extra stability.
This customer went with Oil Rubbed Bronze hardware and it looks great with the tile and fixtures.
Our McKinney, TX Location currently services McKinney, Prosper, Allen, Celina, Frisco, Plano, and all spots North of the George Bush Tollway.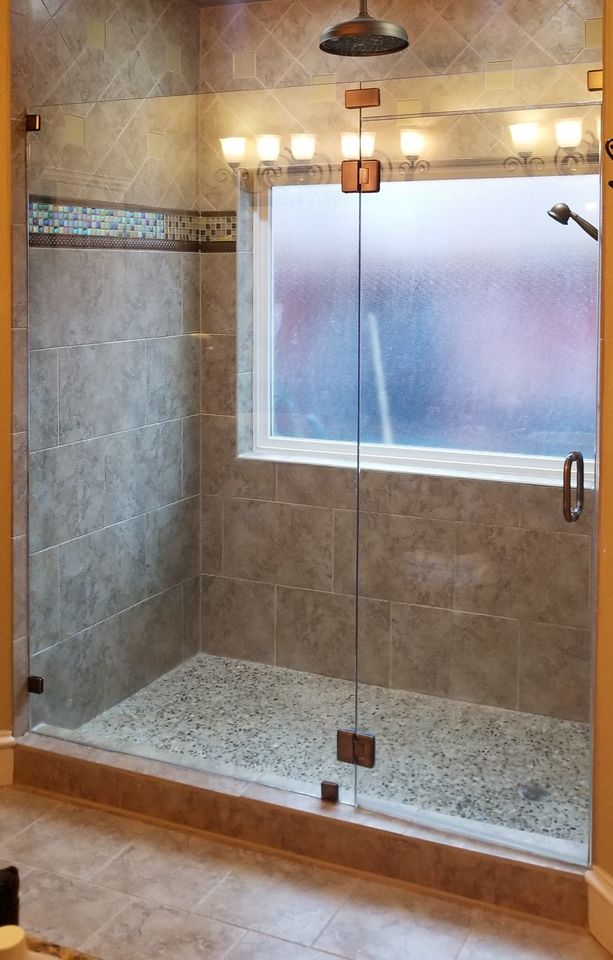 Classic Texas Shower Option
This is the most common configuration for showers we see in Texas. This is the classic Shower Door, Panel with a Return over a knee wall. The size of the knee wall or pony wall changes, but the configuration is the #1 shower door option in DFW.
Notice the panel next to the door is notched to account for the knee wall. This is done before the glass is tempered. Once the glass is tempered it can't be cut. This is why measuring is the most important part of what we do. No wall or floor is ever 100% level. So we measure to make sure we cut the glass to match the out-of-level in the wall so that it all looks level on the top.
The clear glass shows off the beautiful tile work with no frame to distract from the design.
Sliding Glass Shower Door Options
We have a number of different sliding door styles and options to choose from. This slider works perfectly in any space where you don't have the room to open a door outward or you like the sliding functionality.
You can have one door slide with a fixed glass panel or have both doors slide. You can pick from options of sliders that fit your budget. See more about sliding glass shower doors here.